2/4 Flutes Solid Flattened Carbide End Mill
HRC50 For General Machining
| | |
| --- | --- |
| Product Name | 2/4  flutes HRC50° tungsten carbide end milling cutter |
| HRC | 50° |
| Coating | AlTiN, High aluminum content, Black |
| Flute | 2/4 |
| Material | Tungsten Carbide Rod |
| Applicable materials |  HRC≤50 Alloy steel, nonferrous metal, gray cast iron, common dia steel, heat resistant alloy steel. |
Excellent and stable performance
The raw material is foundation of quality, we use our own grade CF10 tungsten carbide rod, which has high wear resistance and strength.
The performance will be consistent and long service life.
Tungsten Carbide Rod Material
| Grade | Co | WC grain size | Hardness | T.R.S |
| --- | --- | --- | --- | --- |
| CF10 | 10% | 0.8μm | HRA 91.7 | 3600N/mm² |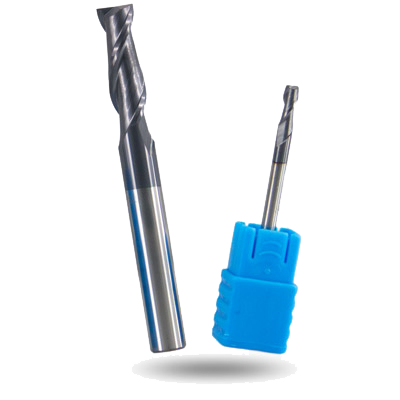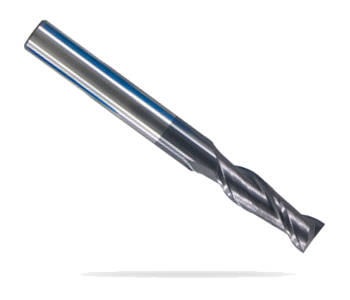 TiAlN Coating
The blade is covered with a TiALN coating and increases the wear resistance of the milling cutter. It can be used for rough or finish  machining under HRC50 material.
Blade design for stable
Two blades with helical chip removal
It is not easy to collapse, enhance end mill chip removal ability, so that the cutting ability of the tool is more stable.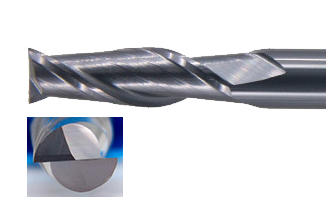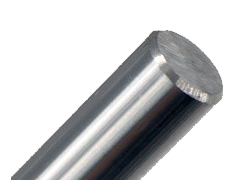 Chamfer Design
Enhance the shock resistance of the milling cutter.



Standard Size
d
l
D
L
F
1.0
3
4
50
2/4
1.5
4
4
50
2/4
2.0
6
4
50
2/4
2.5
7
4
50
2/4
3.0
8
3/4
50
2/4
3.5
10
4
50
2/4
4.0
11
4
50
2/4
5.0
13
5
50
2/4
5.0
13
6
50
2/4
6.0
16
6
50
2/4
7.0
20
8
60
2/4
8.0
20
8
60
2/4
9.0
25
10
75
2/4
10.0
25
10
75
2/4
11.0
30
12
75
2/4
12.0
30
12
75
2/4
13.0
35
14
80
2/4
14.0
35
14
80
2/4
15.0
40
16
100
2/4
16.0
40
16
100
2/4
18.0
45
18
100
2/4
20.0
45
20
100
2/4
Lengthening
d
l
D
L
F
1.0
5
4
75
2/4
2.0
9
4
75
2/4
2.5
10
4
75
2/4
3.0
15
3/4
75
2/4
3.0
15
3/4
100
2/4
4.0
20
4
75
2/4
4.0
20
4
100
2/4
5.0
25
5
75
2/4
5.0
25
5
100
2/4
5.0
25
6
75
2/4
5.0
25
6
100
2/4
6.0
25
6
75
2/4
6.0
25
6
100
2/4
8.0
30
8
75
2/4
8.0
30
8
100
2/4
8.0
30
8
150
2/4
10.0
40
10
100
2/4
10.0
50
10
150
2/4
12.0
45
12
100
2/4
12.0
55
12
150
2/4
14.0
35
14
100
2/4
14.0
60
14
150
2/4
16.0
70
16
150
2/4
18.0
70
18
150
2/4
20.0
80
20
150
2/4
Workpiece material
HRC -30
HRC 30-35
HRC35-40
HRC40-45
HRC 45-60
d
Rotating
Feed
Rotating
Feed
Rotating
Feed
Rotating
Feed
Rotating
Feed
mm
r/min
mm/min
r/min
mm/min
r/min
mm/min
r/min
mm/min
r/min
mm/min
1
16000
120
9500
75
7600
70
5700
66
3200
24
2
9500
160
5700
105
4500
95
3300
82
1900
35
3
7400
220
4500
140
3600
125
2600
110
1500
46
4
6400
300
3800
180
3000
160
2200
150
1270
60
5
5700
370
3400
220
2700
200
2000
180
1150
75
6
5300
480
3200
290
2500
260
1900
220
800
96
8
4000
480
2400
290
1900
260
1400
220
800
96
10
3200
480
1900
290
1500
250
1100
210
640
93
12
2600
460
1600
280
1300
250
950
210
530
93
16
2000
360
1200
220
950
200
710
170
400
72
20
1600
290
950
170
760
150
570
135
320
57